SR-9 / I-95 at 10th Avenue North Interchange PD&E Study
District Office
Gerry O'Reilly
District Four Secretary

3400 West Commercial Boulevard
Fort Lauderdale, Florida 33309

Tel: 954-777-4110
Fax: 954-777-4528
E-Mail Us
Additional Contacts
Staff Directory
The Online Alternatives Public Workshop is scheduled for Wednesday, October 14, 2020, starting at 5:00 p.m., via the GoToWebinar platform. Use the access information provided below to register and receive the link to the Workshop. Additionally, a Virtual Open House will be available on the project website from Wednesday, October 7, 2020 through Friday, October 30, 2020.
Click here to register for the Online Alternatives Public Workshop.
Welcome
The FDOT, District Four, is currently conducting a PD&E Study that proposes improvements to the I-95/10th Avenue North interchange located in the City of Lake Worth Beach between Forest Hill Boulevard (1.90 miles to the north) and 6th Avenue South (1.28 miles to the south) interchanges in Palm Beach County, Florida. The South Florida Rail Corridor (SFRC)/CSX Railroad runs parallel along the west side of I-95 in this area and crosses below an elevated section of 10th Avenue North. The adjacent accessible signalized intersections relative to the I-95 interchange are at Detroit Street (west), at Barnett Drive (west), and at "A" Street (east).
Study At-A-Glance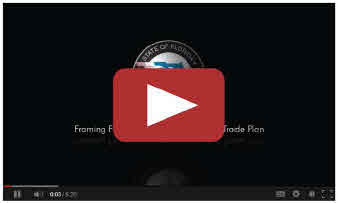 Select this link to view the video.
District
Four
County
Palm Beach County
FPID
412733-1-22-02
ETDM
14337
Study Start Date
Winter 2019
Study Completion Date
Summer 2021
Preliminary Construction Cost
$15,000,000
Lengths and Limits
From I-95/10th Avenue North
from east of Detroit Street to A Street and 0.5 miles south and north of the I-95/10th Avenue North interchange
Project Manager
Humberto Arrieta P.E.
3400 West Commercial Boulevard
Fort Lauderdale, FL 33309
Phone: (954) 777-4152
E-mail: Humberto.Arrieta@dot.state.fl.us